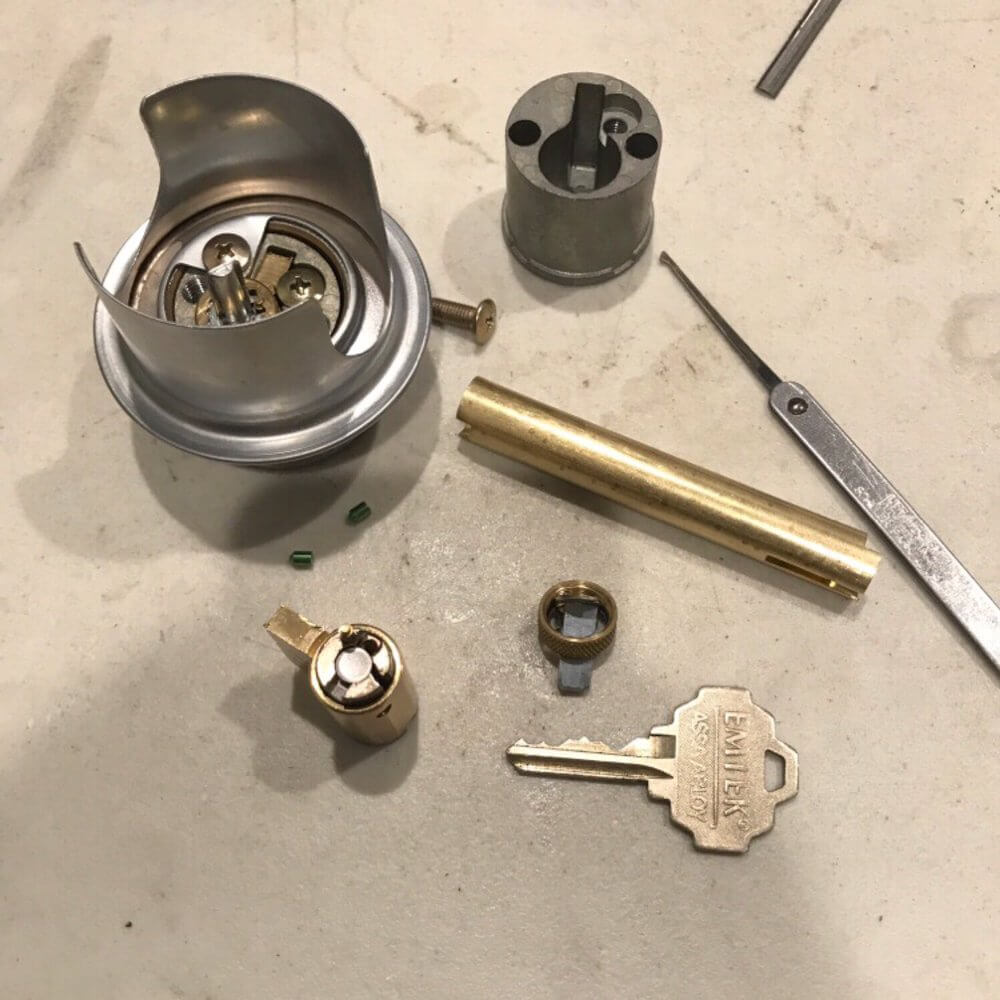 Lock Rekeying Services Norcross
Change the Key Without Replacing the Lock
Do you know that you can change your entire lock mechanism so it can work on an entirely different set of keys? It can save you the cost of replacing entire lock systems at your home/office/automobile/safe.
Need a Lock Rekeying Job Done In Norcross?
If your locks aren't working in full capacity, there's a high chance that your residence or business is at risk. If you're keen about your home/office door aesthetics, then don't take the risk of getting the locks changed. Let our professional Residential Locksmiths in Norcross change a few pins on your existing non-working lock. You can have an entirely new set of keys to access those locks without risking the door aesthetics at all.
Is one of your door locks malfunctioning? Don't want to pay for a new one?
How Lock Rekeying is Different from Lock Replacement?
The method of removing the old locks from your doors and replacing them with completely new ones is called a lock replacement & New Lock Installation. Whereas, changing the pins inside an existing lock so it can work on a different key is Lock Rekeying. Lock rekeying in Norcross is a much affordable option compared to Lock replacement. With Lock replacement in Norcross, you will have to pay extra charges to purchase new locks and additional charges for the replacement service.
Why is Lock Rekeying the Best Option?
The locks at your residence or commercial location are specifically designed to match the aesthetics of your premises. In case, one of your door locks is simply malfunctioning, you can't afford to change all the locks at your home or office just because of a particular non working lock. So what is the best option you have? Call the locksmith experts in Norcross at Super Locksmith 247.
At Super Locksmith 247, we have trained and certified locksmith specialists who are skilled in the art of changing pins on your locks.
Do you want a quick lock rekeying job done at your premises? Call our expert locksmiths in Norcross right away.
When is the Best Time to Get Lock Rekeying Done?
Have you recently removed an employee from your team who happened to have the keys to your office doors? Are burglary incidents common in your neighborhood at Norcross? Are you afraid that your important files and documents are not secure anymore within the office? It's time for you to hire a lock rekeying locksmith in Norcross.
Is security of your assets a major concern? It's time you get a lock rekeying done.
When is the Best Time to Get Lock Rekeying Done?
Short on time and need a reliable locksmith to rekey your home locks? Need not to worry because our emergency locksmiths are always on standby to assist you just about anywhere in Norcross. We rekey all types of commercial and residential locks with ultimate proficiency. Whether it is a mailbox or a cabinet lock that you want to get rekeyed or a door to your home or your office, our trained locksmiths in Norcross are comprehensively talented. Just give us a call and we will reach your location in a few minutes.
If you're locked out of your home, the car key needs to be replaced, or you need new locks installed at your storefront, you call the professionals. Super Locksmiths in Norcross is proud to offer automotive, residential, and commercial locksmith services all across Norcross, Georgia.